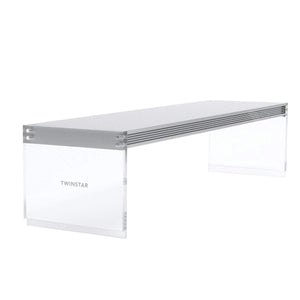 Twinstar
Twinstar E-Series LED
Sale price Price $114.99 Regular price
TWINSTAR LED- E SERIES - AQUARIUM LIGHT FIXTURE
TWINSTAR LIGHT is a new aquarium LED lighting with full light spectrum for rich and vivid colors. In addition, the LED provides the optimum brightness for plant growth. Under the new Twinstar LED the colours of the fish appear more luminous than ever before.
With its full light spectrum and a wide range of wavelengths of 400nm to 700nm, the new LED provides the optimum light required for plant growth. The aquarium plants remain healthy and colourful. The Twinstar Light optimizes and improves the environment for the growth of the aquarium plants and makes the colors of the fish appear more luminous.
These LED lights work well and are a great fit for many of the rimless aquariums we carry, including UNS and ADA tanks.  
Product Highlight:
Full spectrum LEDs for vivid colors 
Ideal color temperature for plants
Promote optimal plant growth
Makes the colors of the fish appear more luminous
Features:
Full spectrum LEDs for optimum color reproduction
Color temperature: 7050 Kelvin
LED Lifespan: 30.000 hours
Operation temperature: -10° - 40°C (14° - 104°F)
TECHNICAL DATA
Twinstar - LED Light - 300ES
Power consumption
17 W
Luminous flux
1,100 Lumen
Twinstar - LED Light - 360ES
Power consumption
17 W
Luminous flux
1,100 Lumen
Twinstar - LED Light - 450ES
Power consumption
22 W
Luminous flux
1,600 Lumen
Twinstar - LED Light - 600ES
Power consumption
33 W
Luminous flux
2,300 Lumen
Twinstar - LED Light - 900ES
Power consumption
65 W
Luminous flux
4,700 Lumen
DIMENSIONS
Twinstar - LED Light - 300ES
Length
300 mm
Width
117 mm
Height
80 mm
Suitable glass thickness

5 - 6 mm
Twinstar - LED Light - 360ES
Length
360 mm
Width
117 mm
Height
80 mm
Suitable glass thickness
5 - 6 mm
Twinstar - LED Light - 450ES
Length
450 mm
Width
117 mm
Height
96 mm
Suitable glass thickness

5 - 6 mm
Twinstar - LED Light - 600ES
Length
597 mm
Width
117 mm
Height
111 mm
Suitable glass thickness

6 - 8 mm
Twinstar - LED Light - 900ES
Length
899 mm
Width
117 mm
Height
111 mm
Suitable glass thickness

10 mm