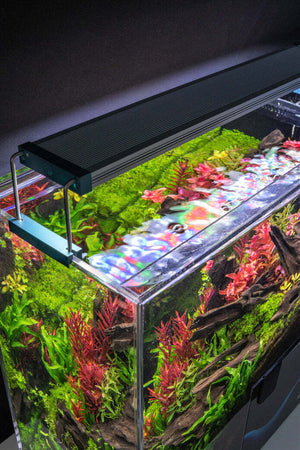 Twinstar
TWINSTAR LED C LINE VR. III
Sale price Price $79.99 Regular price
Twinstar LED C Line Vr. III -Planted Tank LED Light
The Twinstar LED C series provides an affordable aquarium LED light solution with great brightness for non-planted and planted aquariums alike. This is perfect for those who prefer lower maintenance planted tanks and beginners. This series features a built-in dimmer via side buttons with 15 levels and gradual ramp up and down.
Twinstar's line of full-spectrum LED aquarium lighting provides unparalleled performance with innovative design, creating an ultra-sleek appearance that has earned the trust of the aquarium community. Experience the true and vivid colors of a planted aquarium. The Twinstar LED offers the optimum range of wavelengths suitable for growing aquatic plant species and encouraging them to thrive from the start. 
Specifications:
Color temperature: 7050K
LED source: RGB-W
LED life span: 30,000 hours
Operation Temperature:  

0° - 35°C (32° - 95°F)

Fits glass thickness up to 12mm
Width adjustable up to 6"
| | | | | |
| --- | --- | --- | --- | --- |
| Model | Dimensions (WxDxH) | Lumens | Power (Watts) | Adjustable Width |
| 200C | 7.78 x 3 x 3 | 1028 | 16 | 6" |
| 300C | 11.81 x 3 x 3 | 1028 | 16 | 6" |
| 450C | 17.72 x 3 x 3 | 1542 | 24 | 6" |
| 600C | 23.62 x 3 x 3 | 2056 | 32 | 6" |
| 900C | 35.43 x 3 x 3 | 2891 | 45 | 6" |
| 1200C | 47.24 x 3 x 3 | 3984 | 62 | 6" |