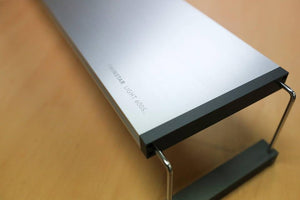 Twinstar
Twinstar LED SA-Series Light
Sale price Price $229.99 Regular price
TWINSTAR LED (SA SERIES)
The 600S/600SP/600SA and 900S/900SP/900SA are the new "Higher-end Model" of full spectrum aquarium LED lights newly released by Twinstar. 
This new Twinstar S-Series LED offers an optimum range of wavelengths of 400nm to 700nm, which is exactly what plants need to thrive and flourish.   Therefore, it can enhance the color of plants and fishes in the most natural way. Your aquarium will be incredibly vivid when using this light.
The (S series) is the latest line of 24" and 36" LED's released by Twinstar.  This light has been redesigned with sleek metallic legs compared to the acrylic legs of the previous (E series).  They boast higher light output than the Model E's, making it one of the strongest LED's for planted tanks on the market right now.      
The SA model features the same great lighting module as the S series except with adjustable versus fixed metallic legs.     
Tank Size Recommendations:
(Model. 600S)
ADA Cube Garden 60-P  or 60-H UNS Ultum Nature Systems 60U
(Model. 900S)
ADA Cube Garden 90-P or 90-H  UNS Ultum Nature Systems 90U  
Product size:
(Model. 600S)   W600mm x D315mm x H17mm
(Model. 900S)  W900mm x D315mm x H17mm  
Specification:
(Model. 600S) 
LED Source : RGB-W
Color Temperature : 6500K
Lumens : 3100lm Power : 45watts
LED Life Span : 30000 hrs 1 year Warranty
(Model. 900S)
LED Source : RGB-W
Color Temperature : 6500K
Lumens : 4900lm
Power : 65watts
LED Life Span : 30000 hrs 1 year Warranty  
Product Highlight:
Full spectrum LEDs for vivid colors 
Ideal color temperature for plants
Promote optimal plant growth
Makes the colors of the fish appear more luminous  
Features:
Full spectrum LEDs for optimum color reproduction
Full metal lighting stand  Sleek and minimalist design Operation temperature: -10° - 40°C (14° - 104°F)