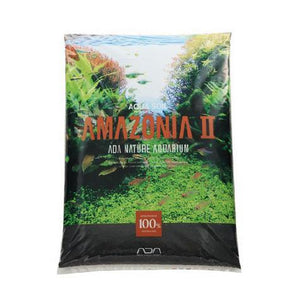 ADA
ADA Amazonia II Aqua Soil
Sale price Price $25.99 Regular price
Aqua Soil-Amazonia II is made of 100% fine natural black soil (material is different from AQUA SOIL - AMAZONIA), this product is an ideal substrate material for planted layouts. Like AMAZONIA LIGHT, AMAZONIA II hardly causes cloudy water during the initial set-up period and it is easier to handle.
*No AMAZONIA II Powder type is available for AMAZONIA II.
*Aquatic plants grow well with combining AMAZONIA II and Power Sand Advance. 
■Nature Aquarium and Aqua Soil
In the early days of Nature Aquarium, the substrate was mainly composed with sea sand and Power Sand. Since sea sand contains no nutrients for plants, Power Sand was the source of nutrients in the substrate. To materialize the substrate that supplies nutrients to aquatic plants for a long period of time, Power Sand was formulated to have two types of organic nutrients; one is broken down by microorganisms and nourish aquatic plants relatively quickly, and the other one is slow-release solid nutrients that melt over time. Later on, Aqua Soil was developed. Since then, it has been used as the main substrate material in succession to sea sand. Aqua Soil is a revolutionary substrate material made from natural soil. Among the Aqua Soil series products, Aqua Soil-Amazonia made from black soil revolutionized the growth of aquatic plants. The black soil of Amazonia contains rich plant-derived organic compounds and nitrogen, helping faster plant growth compared with sea sand. Aqua Soil also lowers the pH of aquarium water to the mildly acidic level and ideal for plant growth. With this soil, the hobbyists can now easily grow plants such as Cryptocoryne, Lilaeopsis, and Syngonanthus which used to be difficult to grow in an aquarium. The combination of Power Sand and Amazonia has now become a classic substrate in Nature Aquarium.
Features of Amazonia II

●Made of 100% fine natural black soil 
(Material is different from AQUA SOIL – AMAZONIA)
●Hardly causes cloudy water during the initial set-up period because 
it contains less nitrogen.
●The combination of Power Sand Basic or Advance and AMAZONIA II 
enables aquatic plants to grow healthier.
How many bags do you need?
The general rule of thumb is one 3L bag per 5 gallons or one 9L bag per 15 gallons.
One 9L bag will give approximately 4-inch height in 1 square foot.
To determine how many bags you need more accurately, multiply tank length by width by depth.
For example:
One 9L bag is equal to 9000 cubic centimeters (approximately 549.21 cubic inch).  In an ADA 60P aquarium with length 60cm and width 30cm, you want 5cm depth of soil:  
60cm (length) x 30cm (width) x 5cm (desired depth) = 9000 cubic centimeters = One 9L bag