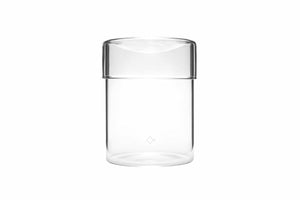 Aqua Worx
Aqua Worx Iota Glass Planter Cup
Sale price Price $21.99 Regular price
Aqua Worx Iota Glass Planter Cup
Cultivation, Plant Specimen Cup by Aqua Worx
Inspired by the basic principles of a terrarium, Iota stimulates an increase in humidity levels, prompting a natural drip system thanks to its unique concave lid design. Handcrafted from quality glass, Iota is the perfect vessel for growing small, humidity loving specimens such as miniature Orchids, Cryptocoryne and more. Aqua Worx is an aquarium goods brand that focuses on essentials for freshwater and planted aquariums.
Our goal is to provide quality products that are practical, aesthetic, cost-effective and most importantly, fun.
Available in two sizes. 

Short Model: 
Measurements:
Volume: 1710 mL
Dimensions: 4 x 7"
Tall Model:
Measurements:
Volume: 2376 mL
Dimensions: 4 x 9.5"

*Due to its handcrafted manufacturing process, the measurements of the products may vary.