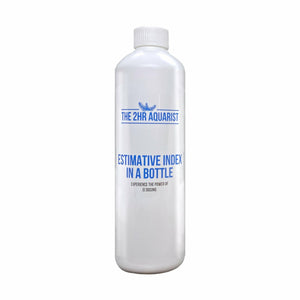 2HR AQUARIST
2HR AQUARIST APT ESTIMATIVE INDEX AQUATIC PLANT FERTILIZER
Sale price Price $24.99 Regular price
2HR AQUARIST APT ESTIMATIVE INDEX
With the 2HR Aquarist APT-EI, the famous nutrient dosing approach pioneered by Tom Barr is now available in a ready-to-use concentrate that removes the guesswork from trying to recreate this powerful and sometimes elusive formula.

Dose 5ml per 100L 3 times per week or 2ml per 100L daily.
ESTIMATIVE INDEX (EI) is based on the classic Estimative
Index formula. This is an all-in-one concentrate that combines
essential macro, micro and trace elements for aggressive and
accelerated growth.

SHRIMP FRIENDLY: YES


Each dose adds 6ppm Potassium, 6ppm Nitrogen, 1.5ppm
Phosphorus, 0.16ppm Iron and trace amounts of magnesium,
manganese, Boron, Zinc, Molybdenum and copper.

TANK TYPES:
Suitable for heavy-scape tanks i.e. Dutch and farm tanks.
HOW IS APT DIFFERENT?
Real results.
Plants grown the 2Hr Way
TM
 using APT display a unique richness and form.
APT came about because we could not find any existing product that met our needs.
I DON'T NEED SUCH POWER?
Even for the simplest tank, good plant health helps prevent algae and keep fish happy.
APT ensures your plants get 100% of what they need.
Healthy plants, happy fish, algae-free.


I'M HAPPY WITH MY EXISTING FERT!
Sure thing!
As aquarists ourselves, we say 'whatever works'.
The right performance fuel just makes it easier and (we find) a lot more exciting.


REALLY 3X SAVINGS?
APT Complete contains the 3 macro nutrients Nitrogen(N), Phosphorus(P), Potassium(K) + Iron(Fe)
+ Essential Trace Minerals. Importantly, in the right amounts.
You can buy these 5 individual components (e.g. Potassium) for around US$15 each.
5 x $15 = $75.