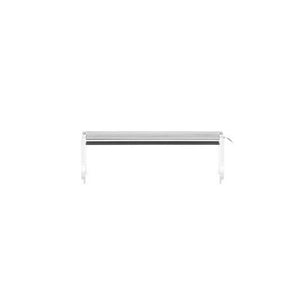 ADA
ADA AquaSky 361 LED Lighting System
Sale price Price $169.00 Regular price
AquaSky 361 LED Lighting System
AQUASKY is a LED lighting system specifically designed for aquatic plant layouts in nano-size aquariums. Whereas this product provides enough light intensity for plant growth, it requires less power consumption improving cost performance. The slim lighting unit has a high radiation performance and its clear stand provides an open feeling to the top of the aquarium.

*Photo is for reference only. This product has a power supply cord on the side.


Features
This product is compatible with Cube Garden / Cube Glass aquarium in the following sizes: (or with frameless aquarium tank of the size).
W36 x D22x H26 
(cm) glass thickness 5mm
Input voltage
: AC100~
240V 50/60Hz
Power consumption: 17W
Current consumption: 0.4A
Color temperature: 7,000K~8,000K
LED: 0.4W/each x 30
Dimension:
Light housing unit size: W280mm x D68mm x H9mm
Clear stand size: W360mm x D100 x H95mm (for aquarium 36cm in width & glass Thickness of 5mm or under)