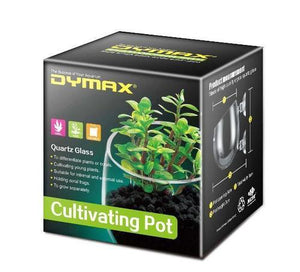 Dymax
DYMAX CRYSTAL CULTIVATING POT - GLASS PLANTER
Sale price Price $12.99 Regular price
DYMAX CRYSTAL CULTIVATING POT - GLASS PLANTER
This cultivating pot by Dymax is the perfect addition to any planted aquarium tank. Featuring quality, clear glass, this glass planter cup blends into the aquarium wall and is perfect for cultivating live aquatic plants for a cascading effect or prior to adding new species into the aquarium. Alternatively, it can be used to test the growth of aquarium plants an aquarist might be interested in but does not want to fully plant into their main aquarium. 
Beautiful aquarium decoration for various sized planted aquariums. 
Simple design allows for easy placement and movement. 
Large enough to support planted aquarium soil for the propagation of selected live aquarium plants. 
Quality glass material will not obstruct the view of a planted tank. Great decoration or gift for fellow aquarist.

Suitable for freshwater aquariums and saltwater/reef aquariums.