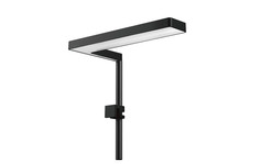 ONF
ONF Flat Nano+ Smart Planted Aquarium LED Light
Sale price Price $148.00 Regular price
ONF FLAT NANO+ SMART PLANTED LED LIGHT
Easier than ever 
Via ONF Link you can manage multiple devices and adjust the brightness. Additionally, you can create a personal daylight circle up to five groups, to simulate the circadian rhythm of natural sunlight.
Vivid and larger than life
ONF exclusive customized ColorFull LED for all range plants, which is combining advantage of three wavelengths and full spectrum light color, the color is closer to the real but more dazzling, which brighten up the aquatic plants vividly and clearly.
* Customized ColorFull LED for all range plants.
The wide-area color rendering technology of ColorFull LED, which not only provides the wavelengths required by plants but also complements the spectrum of other bands, making the color more stereoscopic and vivid.
Jump out of the frame 
Just be creative !
Adjustable in angle and height. Easy for creation and maintenance.