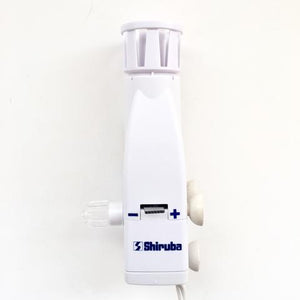 Shiruba
Shiruba Surface Skimmer
Sale price Price $25.99 Regular price
Shiruba Surface Skimmer (Model. SS- 250) Color: White

Small Planted Aquarium Surface Film Skimmer
For 30~180L (Approx: 8~48 Gallon) water plant and marine tank 
Shiruba (Model. SS- 250), Small Aquatic Plant Tank Water Surface Skimmer, is also suitable as a small planted aquarium filtration equipment, compared with traditional hang on filters, Shiruba (Model. SS- 250) can effectively remove the surface film to increase air exchange, and submersible outlet design can also reduce CO2 losing in the water, so you can easily set up the aquarium plants healthy growth environment.
FEATURES:
Efficient aquarium surface skimmer
Easy to install and maintain
Auto adjustable float to adapt changeable water level
Adjustable water flow rate
Decentralized water flow outlet
Suitable for freshwater and marine tank
Design and manufactured in Taiwan
INSTALLATION GUIDE:
1.Mounts Shiruba (Model. SS- 250) on 2~3cm position under water level and make sucker attach on the tank wall.
2.The power cord is required to be fixed to the hooks at the product side. Sucker on the power cord have to be attached on the tank wall, and kept more than 1cm distance from the buoy, to avoid affecting buoy operations.
SPECIFICATIONS:
Load power

Voltage

Max. Water Flow rate

Serving range of Water volume (Liter)

3.5W

   110V/60Hz

250L/H

30~180 L (Approx: 8~48 Gallon)