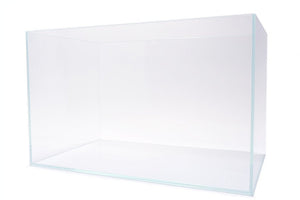 UNS
115 Gallon 120U Ultra Clear Low-Iron Rimless Aquarium - Ultum Nature Systems
Sale price Price $1,299.00 Regular price
115 Gallon 120U Ultra Clear Low-Iron Rimless Aquarium - Ultra Clear Tanks by Ultum Nature Systems
The UNS 120U is one of the ultimate rimless tanks for aquascaping at this large size!  
These rimless aquariums are carefully crafted using 91% clarity Diamant glass, a highly transparent extra clear glass with very little residual green color.  The low iron content in the glass provides uninterrupted crystal clear visibility.  
The 45° mitered edges are bonded together using high performance German silicone specifically designed for aquarium construction.  Each Ultra Clear Tank comes with a black leveling mat which is crucial so you don't have to cut up your wife's yoga mat.
Specifications:
+ 45° Mitered Edges 
+ 91% Clarity with Diamant Glass
+ High Quality German Silicon 
+ Laser Etched Logo

Dimensions:
Length: 47.24"
Width: 23.62"
Height: 23.62"
Glass thickness: 12mm 
Volume: 115 gallons

Color:
Ultra-Clear Low Iron
Includes:
+ Black Leveling Mat