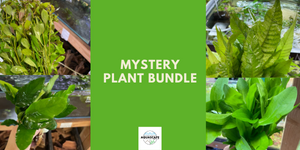 Aquascape Supply
Mystery Plant Bundle
Sale price Price $19.99 Regular price $32.00
Having trouble figuring what aquatic plants you want for your planted tank?  Let us choose some nice and lush plants for your aquascape!
You get a bundle of 4 plants for just $19.99.  They can be a mixture of stems, foreground, rhizome or floaters.  We will choose according to the nicest plants on hand from our plant holding tanks! 
**Every order will be different; pics shown are just an example of a bundle.