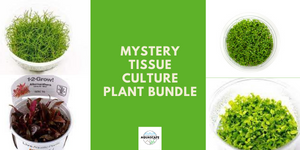 Aquascape Supply
Mystery Tissue Culture Plant Bundle
Sale price Price $34.99 Regular price $52.00
Having trouble figuring what aquatic plants you want for your aquascape/planted tank?  Let us choose some nice and lush tissue culture plants for your aquascape!
You get a bundle of 4 high quality tissue culture plants for just $34.99.  They can be a mixture of foreground to midground or background plants and can range from renowed brands such as ADA, UNS, Tropica, Aquatic Farmer, etc, etc.  We will choose according to the nicest tissue culture plants on hand from our tissue culture plant storage room! 
**Every order will be different; pics shown are just an example of a bundle.