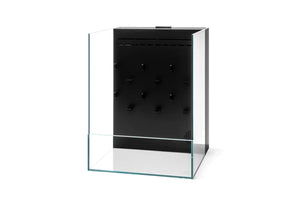 UNS
UNS FORESTA PALUDARIUM - 35E
Sale price Price $349.99 Regular price
UNS Foresta Paludarium - 35E 
Introducing FORESTA by Ultum Nature Systems

Expanding beyond the aquarium: Further innovation upon the Ultum Nature Systems line of Rimless Glass Paludariums. Made with the same technology as our Rimless Glass Aquariums, Foresta is an exploration of nature in a new way.
Ultum Nature Systems Foresta is an integrated paludarium system equipped with built in filtration and a cascading waterfall wall. The included Ultum Nature Systems Atomizer adds a cooling mist effect, which is ideal for cultivating aquatic and terrestrial plants that require elevated humidity levels or tropical conditions to thrive.
BUILT-IN CASCADE FILTER
Triple chamber with misting and waterfall

Features built-in filtration eliminating the need for additional external equipment. The integrated triple chamber includes a USB-powered water pump, Ultum Nature Systems Atomizer, and coarse aquarium sponges. All three chambers work together to provide filtration, misting and a waterfall effect, resulting in smooth operation and a beautiful tropical environment.